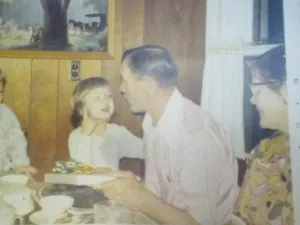 The picture at the beginning of this newsletter is one of my grandfather and myself as a child. This is one of my favorite pictures because it captures the quality my grandfather had that is missing in society at large today. My grandparents lived across the street from me on a farm. I voluntarily spent a lot of time there. My grandfather was probably the kindest, most everyday person that I have ever known. By that I mean he did not do anything that would ever go down in history, but in his day-to-day interactions, he paid attention. He always put others' needs first in a way that just seemed very natural and unnoticed. He was always helping, but again it was just his sublime way of life; nothing ever hugely noticeable. I never heard the man complain and he never put anyone down. I use this picture because I always loved to tell my grandfather news, whether it was the new doll I got for Christmas at age three or the things I was learning in college about music therapy. It never mattered because the look in the picture, the look of, "That is amazing!", was always the message conveyed in his eyes and his complete attentiveness to the person speaking. When my aunt compiled a history of my grandparents after they passed, my though tupon seeing this photo was that every child should have someone that looks at them like this when they have a message to deliver.
Not all children are verbal, or can even make eye contact, but every child is human and needs this too. This attentiveness to a child needs to take priority over any babbling goals, pointing goals, social goals, or self-help goals. This kind of attention must come first. Children, above all, as Maya Angelou put it, "will remember how you made them feel."
When I get to a place with my clients where I feel lost and I don't know what's going on, I don't know where to move, or in which direction to go, I go back to this: watching the child. I watch the child and reflect their human dignity back to them, via the music. Whatever gifts or strengths they bring to the session are valued. Sometimes the miracles happen as soon as the music reflects. For example, those who previously did not give eye contact suddenly meet my gaze, if only for a moment. On the other hand, sometimes processing needs to happen first. You just have to persist, keep reflecting, and watch for the subtlest of change. Upon first glance, it may seem like the child hasn't moved or grown much. However, when you start to use the elements of music – rhythm, dynamics, tone, etc. – and match them to the child's displayed behaviors, one must alter the elements slightly as the minute displayed behaviors begin to alter. This is the beginning of attentiveness. Transformation has begun. It may not be dramatic transformation, like a caterpillar to a butterfly. It may be a less obvious growth, like grass growing. One never really witnesses the change, as it happens on a very subtle continuum.
Sometimes it seems, as professionals, we tend to be human. When we don't understand how to reach these kids that react so differently to the world, we unknowingly tend to treat them as if they are not sentient.
We need to remember this. I truly believe that when you look at the way we feel inside, these kids are exactly the same as the professionals that work with them: emotional beings. Last year, I ran into Maya Angelou's above quote three completely separate times in a two-week period. I figured I was supposed to pay attention to this for some reason. Those of us who are able to respond to the world in a typical manner must take responsibility for our actions and thoughts in this regard when working with those who do not respond typically. Musically, we can relay this message to the children who do not respond in this manner by being reflective in the use of the elements of music, for example, by matching rocking movement with an ostinato rhythm. Not only conveying to our clients that what they bring is good enough and valued, but also giving their strengths structure through the predictable rhythms and tones that lead somewhere. As their vigorous nervous rocking slows to a calming motherly rocking, the dissonant, loud music reflects this in its transformation to a relaxing lullaby-like quality. The basic ostinato structure stays the same reflectively, yet mellows and transforms, allowing our client to finally direct his or her own growth.
As my grandfather aged, and it was apparent that dementia was hovering over him, the grange to which he and my grandmother belonged celebrated him while we were still able to recognize his appreciation. I was away at college, but I wrote a letter to be read at his celebration, ringing true Angelou's quote. I recalled living in the bitter cold of every upstate New York winter to "help" my grandfather with the chores. After chores, Saturday was the day to clean the gutters in the dairy barn, and then take the wagon filled with fertilizer to the fields. If I was home, I didn't miss a chance to ride on the tractor with him. I am certain that it was not the activity itself (above all, I hate being cold) that I enjoyed. It was the company I kept, and how I felt being in that company. My grandfather's attentiveness had captured my own.