Back Mountain Music Therapy has continued to grow in it's practice. We have been very fortunate to have a number of interns to work and learn with. Bridget McCormick is out current intern.Bridget has been with us for a little while and is coming upon the last 1/3rd of her internship. Learn a little about Bridget, ask questions, and in the coming months, we can hear about the aspects of Music Therapy that Bridget is exceles in and is finding to be of interest: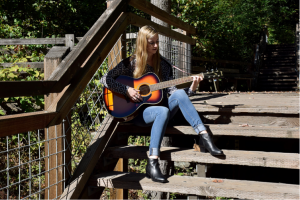 From a young age, I have always been connected to music. I have memories of myself sitting at my piano with dad as he helped me practice or nights when mom closely listened to me play as she cooked dinner. I became more interested in music as I grew older. I continually searched to find more ways that I could integrate it into my everyday life and one day, it all fell into place.
When I was about 15 years old, my grandfather was diagnosed with dementia. One of the resources that was offered at the facility he lived in was music therapy. My mom came home one day after visiting my grandfather and said "Bridget, you need to see what music therapy is about! This is something for you!". As a sophomore in high school at the time, I did some research to see what music therapy was all about. After reading what seemed like a thousand articles, it "clicked" for me. I felt like I found a passion that I didn't realize I was searching for.
Throughout my time in high school, I continued to do more research. I remember walking into my honors music meetings each month with new information and personal stories that I discovered. I would tell my teachers about the unique ways music has the power to reach, heal, unite people with others and with themselves.
Now as I am in my internship, my passion towards music therapy continues to grow. I truly believe that music is an incredible tool that can benefit others. I have seen it with my own family and with clients that I have the privilege of working with everyday. I am beyond grateful to have found this field and I am excited to see where my journey will take me here at Back Mountain Music Therapy!
Bridget McCormick, Music Therapy Intern